No one really thinks about lamp shades until they have to. Maybe you're moving into a new place and need to buy some, or your old ones have seen better days. Whatever the reason, it can be tricky to know how to choose lamp shades. But don't worry – we're here to help! This post will give tips on finding the perfect shade for your lamps and some advice on what materials and colors to look for. Keep reading for all the details!
Summary: There are many different lamp shades to choose from, and it can be difficult to decide which one is right for your needs. Here are some tips to help you choose the right shade: 1. Choose a lamp that matches the decor in your room. 2. Think about the purpose of the lamp. 3. Consider what type of light the lamp will emit. 4. Look for lamps with a variety of colors and shapes.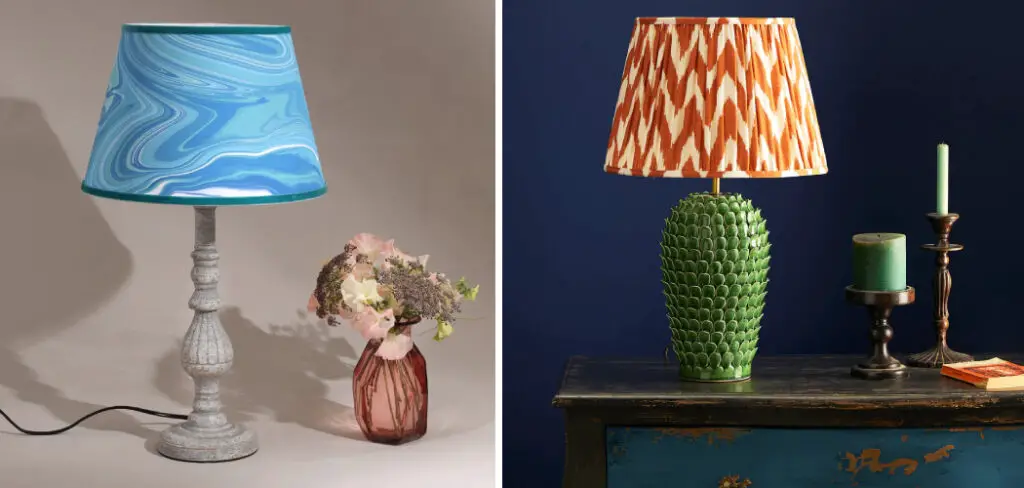 What Are Lamp Shades?
Most people have a lamp in their homes, but not everyone knows what a lamp shade is. A lamp shade is a cover for the light bulb and stands for a lamp. Most lamp shades are made of fabric, but they can also be made of glass, metal, or paper. The purpose of a lamp shade is to diffuse the light from the bulb and provide decoration for the lamp.
Lamp shades come in many different shapes and sizes, and they can be customized to match the style of any room. Therefore, when shopping for a new lamp shade, it is important to consider the shade's size, shape, and material. With so many options available, there will surely be a perfect lamp shade for any home.
Why Should You Choose Lamp Shades?
When it comes to choosing the perfect lamp shade, there are many factors to consider. First, think about the style of your room and the overall design aesthetic you are trying to achieve. Then, take into account the size and placement of your lamps. Once you have a general idea of what you are looking for, it's time to start shopping! Here are a few reasons why lamp shades should be at the top of your list:
Lamp shades help to diffuse light, creating a softer and more calming ambiance in your home.
They can also be used to add a pop of color or pattern to a room.
Lamp shades can be inexpensive to give your lamps a whole new look.
Finally, when choosing lampshades, it's important to ensure they are the right size. Too small and the shade will be lost; too large and it will overwhelm the lamp.
The best rule of thumb is to choose a shade about twice the width of the lamp's base. With these tips in mind, you're sure to find the perfect lamp shade for your home!
8 Ways to Follow on How to Choose Lamp Shades
When choosing lamp shades, there are a few key things you need to keep in mind to make the best selection. Here are eight ways how to choose lamp shades: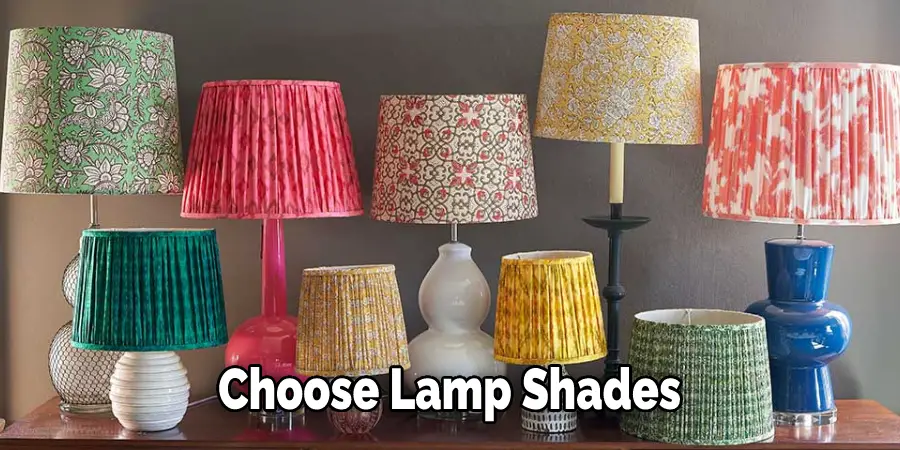 1. Pick the Right Shape
The first step is to determine the right shape for your lamp shades. This will be based on the shape of the lamps and the surrounding décor. For example, if you have a round lamp, you will want to look for shades that are also round or at least have a soft, curved edge.
2. Go for A Bigger Size
It is also important to consider the shades' size when selecting. You want to make sure that the shades are not too small or too big for the lamps. A good rule of thumb is to go for shades about twice the lamp base's diameter.
3. Consider the Fabric
Another thing you need to think about is the fabric of the shades. This will be determined by the overall style you are going for. If you want a more traditional look, then you will want to choose shades made of silk or other luxurious fabrics. If you want a more modern look, you can opt for shades made of cotton or other natural fibers.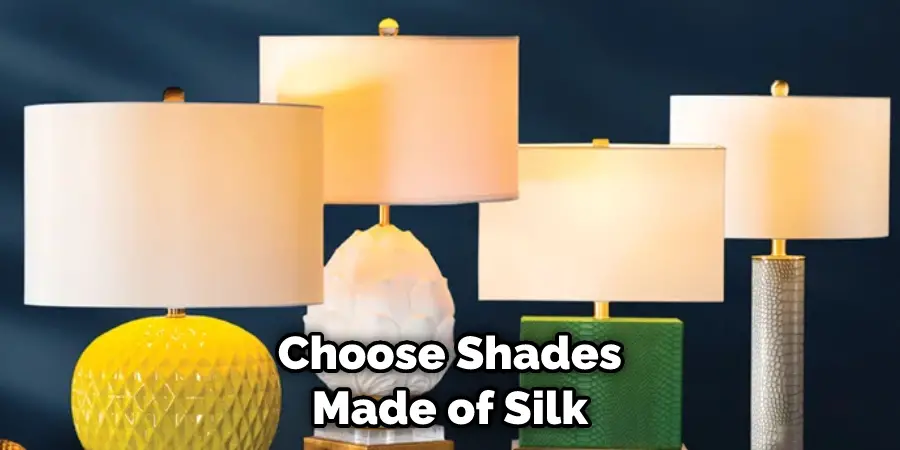 4. Get the Perfect Color
The color of the shades is also an important consideration. You want to ensure that the shade compliments the rest of the décor in the room. If you are unsure about what color to choose, it is always safe to wear a neutral shade like white or beige.
5. Mix and Match
One of the best ways to add interest to your lamps is to mix and match different shades. You can do this by choosing shades in different colors or patterns. Or, you can even mix and match different materials for a unique look.
6. Repurpose Old Shades
If you have old lamp shades you are no longer using; you can repurpose them into new ones. This is a great way to save money and simultaneously add some personality to your lamps.
7. Find Inspiration Online
There are tons of great sources of inspiration for lamp shades online. If you are having trouble finding what you are looking for, then simply search on Google or Pinterest. You will be sure to find some great ideas that you can use for your own home.
8. Shop Around for the Best Deals
Finally, make sure to shop around for the best deals on lamp shades. You can often find great discounts at online stores or even garage sales. So, take your time and shop around until you find the perfect shades for your lamps.
That's it! You've now learned how to choose lamp shades like a pro. So, what are you waiting for? Start shopping around and find the perfect shades for your home today!
Types of Lamp Shades and How to Choose Them
Choosing the right lamp shade can be the difference between a room that looks pulled together and one that looks like it's still missing something. But with so many different shapes, sizes, and styles available, it can be tough to know where to start. So here is a quick guide to the most common types of lamp shades and how to choose the right one for your space.
The proportions are the most important factor to consider when choosing a lamp shade. The shade should be about two-thirds the height of the overall lamp, including the base. The width of the shade should be proportional to the width of the lamp base. For example, a wide lamp base will look best with a wider shade. Once the basic proportions are sorted out, you can start thinking about style.
A classic drum shade is a good option if you're going for a traditional look. However, try a square or rectangular shade if you want something a little more modern. And if you're looking to make a statement, then go for an unconventional shape like an oval or teardrop. Once you've decided on the general shape of the shade, then you can start thinking about the material.
The most common options are fabric, paper, or glass. Each one has its own unique look and feel, so it's really up to personal preference. Just make sure to choose a material that is durable and easy to clean.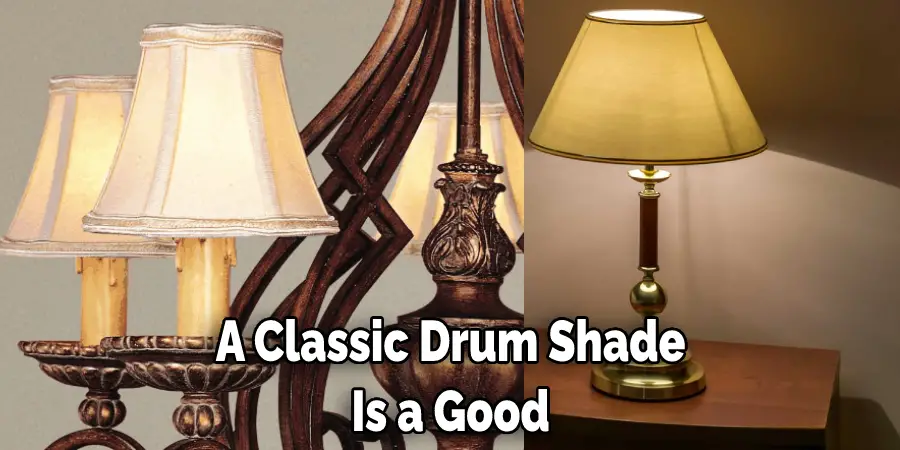 Finally, don't forget about color. The shade should complement the rest of the room's decor but still make a statement in its own right. For example, a white or neutral shade will give off a softer light, while a bolder color will add some visual interest to the space. When it comes to choosing a lamp shade, there are endless possibilities. But by following these simple guidelines, you'll be well to finding the perfect one for your home.
The Do's and Don'ts of Choosing Lamp Shades
When it comes to choosing lamp shades, there are a few dos and don'ts to keep in mind. First, do consider the overall style of the room. Lamp shades come in various shapes, sizes, and colors, so it's important to choose one that will complement the rest of the décor. Another thing to keep in mind is the function of the lamp. If you're looking for task lighting, for example, you'll want to choose a shade that directs light downwards.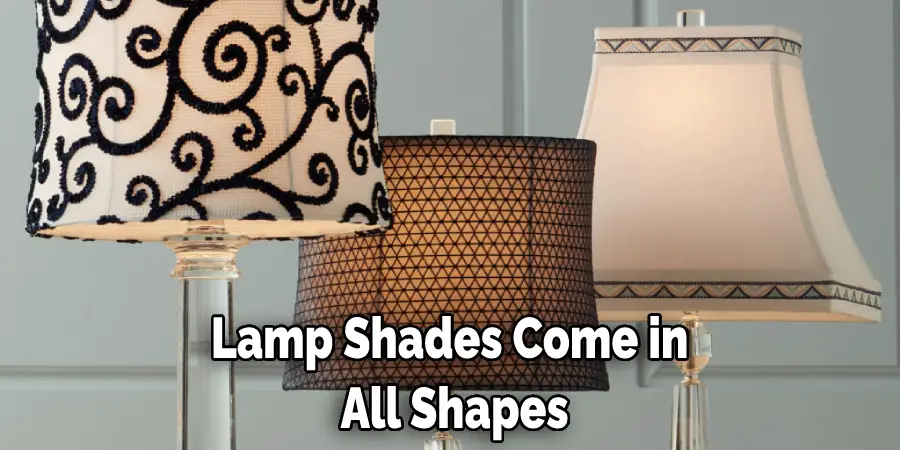 On the other hand, if you're looking for more ambient light, a translucent shade may be a better option. However, when it comes to don'ts, one of the most common mistakes is choosing a shade that is too small. Not only does this look disproportionate, but it can also result in too much light being directed upwards, creating glare. So when selecting a lamp shade, be sure to keep these dos and don'ts in mind for a stylish and functional lighting solution.
Frequently Asked Questions
What Type of Lamp Shade Do I Need?
You don't have to spend a fortune on lamps to achieve the effect that you want. With a little creativity and some stylish lampshades, you can create an attractive and affordable lighting fixture of your own.
There are many different types of lamp shades available, so it's important to choose one that will complement the style of your room while also providing optimal light coverage. Some popular styles include vases, palettes, or sunburst panels.
You can also find shade designs in various materials including wood grain, linen fabric, or even plastic. Once you've found the design that is perfect for your needs, be sure to order it online or at a retailer near you!
Should All the Lampshades in a Room Be the Same Color?
Some people might prefer all of their lamps to have the same color, while others might prefer some variation in color. It ultimately comes down to personal preference.
Can You Put Any Lampshade on Any Lamp?
Depending on its design and size. For example, a round lampshade may not fit on an octagonal or square light fixture. In general, however, it's usually safe to assume that any lampshade can be placed on any type of lamp.
Are Pleated Lamp Shades in Style?
Pleated Lamp Shades are definitely in style right now, and for good reason! They add a unique and stylish touch to any room, and they're also quite affordable. If you're thinking of adding pleated lamp shades to your home décor, be sure to check out some of the top-rated brands on Amazon. You won't regret it!
Conclusion
Lamp shades come in all shapes, sizes, and colors. When choosing a lamp shade, it is important to consider the look you are trying to achieve as well as the size of the light bulb. Larger light bulbs require larger lamp shades, while smaller light bulbs can be accented with smaller shades. There are also many different styles of lamp shades to choose from, so take your time and find the perfect one for your home. Thanks for reading our post about how to choose lamp shades.