If you are looking for an easy way to control all your Govee light bulbs from one central location, you'll want to learn how to sync Govee light bulbs together. This simple guide will show you how to do just that in a few easy steps. So don't wait any longer and get started today!
Govee light bulbs are a great way to add some modern LED lighting to your home; however, controlling all those separate light bulbs can be a pain and quickly become expensive with the need for individual remotes. Luckily there is a more accessible and more affordable way of achieving this!
Summary: Syncing Govee light bulbs together enables seamless control and coordination of your lighting setup for a more streamlined and efficient smart home experience. To sync multiple Govee light bulbs, you will need the Govee Home app installed on your smartphone or tablet, and all light bulbs should be compatible with the app and connected to the same Wi-Fi network.
Begin by opening the Govee Home app and ensuring that each light bulb has been added to the app individually. If a bulb has not been added, follow the on-screen prompts to connect the bulb to the app and your Wi-Fi network. Once all light bulbs are connected, create a group within the app to sync them together. To do this, tap on the "+" icon in the top right corner of the main screen, then select "Group" and choose the type of device you want to group (in this case, light bulbs).
Assign a name for the group and select the light bulbs you wish to sync together by tapping the checkboxes next to their names. Confirm the group creation by tapping "Save" or "Done." With the group created, you can now control and customize the synced Govee light bulbs simultaneously through the app, making it easier to manage your lighting and create a cohesive ambiance in your home.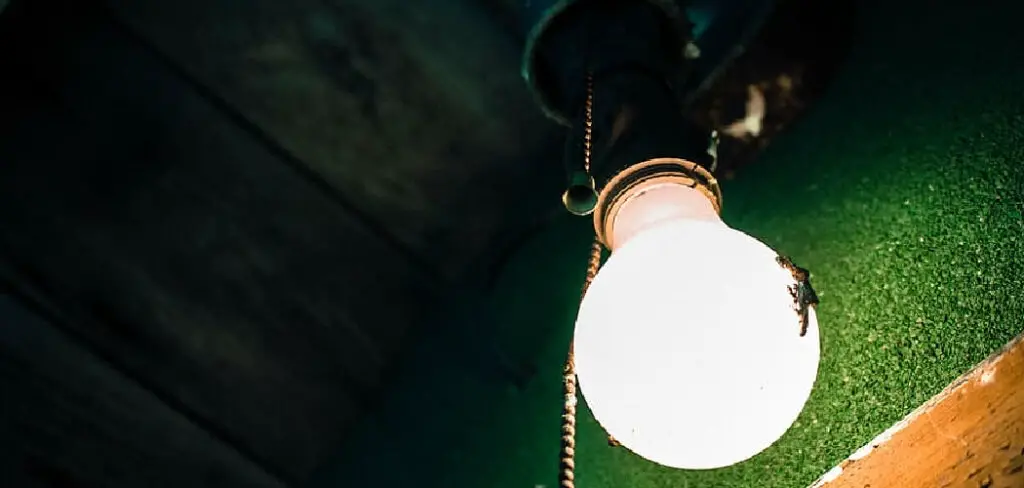 What Are Govee LED Light Bulbs?
Govee Smart LED Light Bulbs are the most advanced light bulbs today. Using built-in wireless technology, Govee connects your lights to a smartphone app so you can turn them on and off before you even get home. No more fumbling around in the dark. With a wide range of colors and color temperatures to choose from, they will brighten up your living space with a touch of a button on your phone. Some features of Govee LED light:
With built-in WiFi, Govee is easy to connect directly with your smartphone.
Customize the color temperature and brightness of your lights to create an ambiance that's perfect for any occasion.
Your lighting changes based on Time, Location & Motion Detection! Set the mood with just a touch of a button! Never come home to a dark house again. Or let Govee turn on when you pull into the driveway.
Sync lights with your TV or Music for even more fun. Or set them on a timer, so they turn off automatically after you go to sleep. The possibilities are endless!
Tools and Materials:
Govee Light Bulbs
Smartphone with the Govee App downloaded
Power Strip (with remote)
TV Remote (optional)
A Step by Step Guide on How to Sync Govee Light Bulbs Together
Step 1: Determine How Many Bulbs to Sync
Before you begin syncing your light bulbs, it's good to determine how many bulbs you want to sync together. For example, if you have all Govee bulbs in one room or area, you'll only need one smartphone. But if you have multiple rooms with the same color bulbs, it will be beneficial for both individuals holding their smartphones to sync them together so that both rooms can match perfectly.
Each Govee bulb has a set point on its color spectrum that it emits when fully charged and used in a dark environment. This means that for two people living in separate homes to create the same atmosphere in their rooms to feel comfortable, they must have their lights synced together.
Step 2: Check for Signs of Damage or Disuse
If you ever notice that your Govee light bulbs are damaged, it's best to contact the company immediately to replace the faulty unit. If you notice that one of your bulbs flickers or blinks faster than the other ones around it, there may be an issue with its connection to the wireless network.
This means that you'll have to find out which bulb is causing the disruption and remove it from all connections until it can be replaced. However, if none of your Govee light bulbs appear damaged and still display no signs of use, then carry on to the next step.
Step 3: Placement
When placing your Govee light bulbs around your house, please put them in an area where they will be most beneficial. For example, if you want to use the light bulbs as lamps or table lights, then place them on tables or shelves within arms reach or comfortably sitting on top of a piece of furniture.
If one of your Govee light bulbs is damaged, you should contact the company to replace it. If you notice that one of your bulbs is flickering or blinking faster than the other ones around it, there may be an issue with its connection to the wireless network.
If you're looking for task lighting and your bulb is within arms reach but also emits a ton of glare because it's too bright, try moving it to an area further away from where you're working.
Step 4: Syncing Individual Bulbs
To make sure your light bulbs are in sync with each other, make sure they are placed close together. Then, switch them on to see which one emits the strongest color spectrum. If you have two bulbs located in separate rooms across the house with different color spectrums emitting from them, then it would be best to use some television program or video game that has white noise emitting from it so that the Govee App can easily find both lights and sync their colors together.
To sync two bulbs together, first locate both lighting units on your smartphone. Tap on the bulb icon next to the power button on your app, and a symbol of the remote control will appear on the screen. Press "sync," followed by tapping on both bulbs that you want to sync together. If the bulbs are successfully synced on screen, tap "enter" on your smartphone's keyboard, and you're all set!
Step 5: Sync Multiple Light Bulbs Together at Once
To sync multiple light bulbs together at once, make sure they are placed close together. Then, turn them on one by one so that your Govee App can easily find each of them and display a symbol of a remote control next to its power button. Next, you'll need to press "sync" for every bulb individually until the app can locate all of them.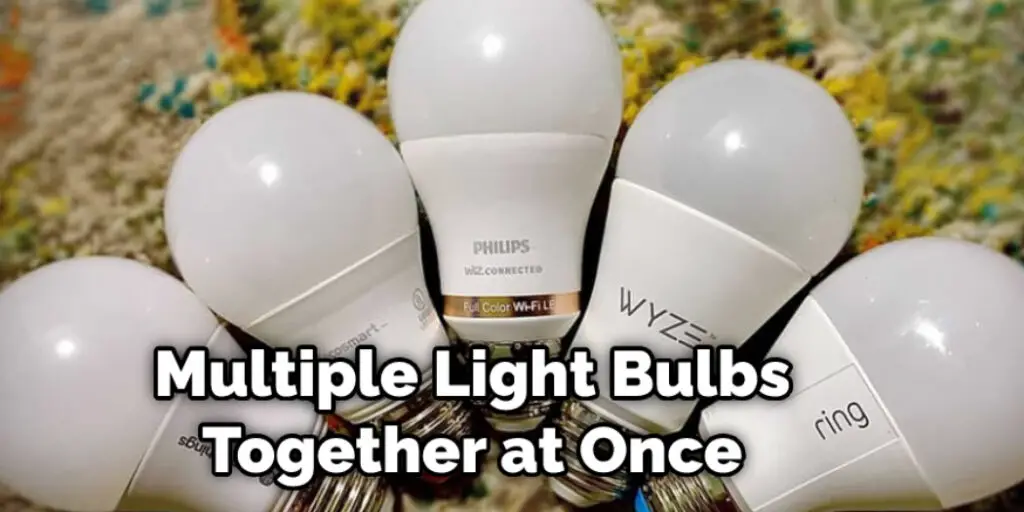 After this has been done, tap on the three dots between the power buttons and select "synchronize." After you select this, a symbol of the remote control will appear on the screen, and you'll need to press "sync" once on each light bulb that was found. Finally, tap "enter" on your smartphone's keyboard if the bulbs are successfully synced, and you're all set!
Step 6: Manage Groups
The Govee App allows users to create groups based on their light bulbs, making it easier for them to turn specific lighting units off or on within seconds. To add a new group, you'll need to touch the menu button in the top left corner of your app's home screen. From here, select either "Groups" or "Miscellaneous".
After completing this task, you will be taken to a screen with three different buttons. First, press "Add Group," select the bulbs you want to place into the group, and then press "Finish." This will create your new grouping of light bulbs which can be turned off or on at any time by pressing the power button next to its title located in the top left corner of your app's home screen.
Step 7: Reset Govee Light Bulbs
To reset individual lights, tap on the bulb icon next to its power button. Then press "Reset," followed by tapping on each light bulb until they are all displayed as off. If this doesn't solve your problem, it would be best to delete all your lights from the Govee App and start from scratch.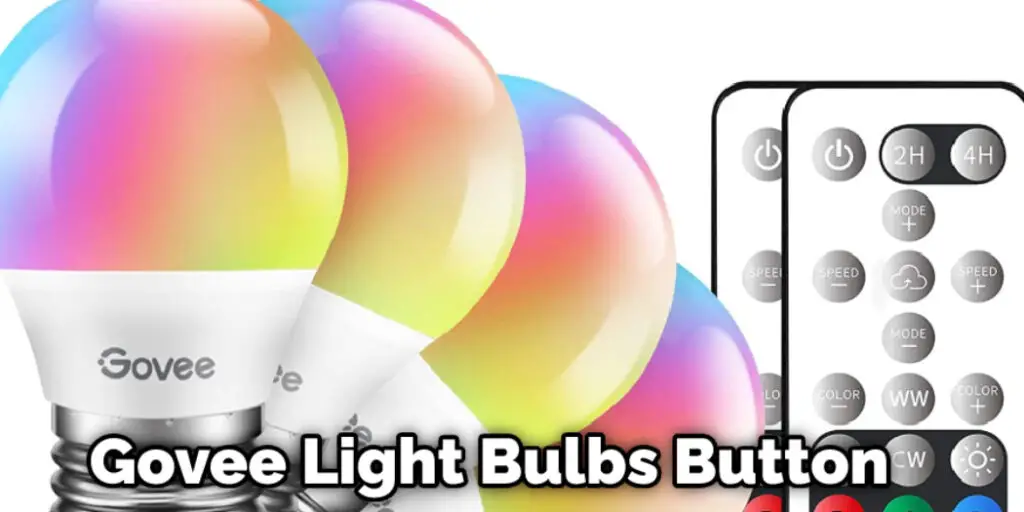 To reset your Govee light bulbs, press the "Groups" or "Miscellaneous" button from your app's home screen. Then, tap on "Reset Bulbs." A symbol of the remote control will appear on the screen. To complete the reset process, press the "reset" button for each bulb that was found. Once all bulbs are reset to their original off state, your Govee light bulbs will be successfully synced together.
You Can Check Out to Sync Led Lights to One Remote
Troubleshooting Your Govee Light Bulbs Sync Problem
Check your network connection: Make sure your smartphone or smart device is connected to your Wi-Fi network. Govee light bulbs require a stable and consistent network connection to work correctly.
Turn the bulbs on and off: Try turning the bulb on and off a few times to reset it. You can do this using the switch or using the Govee app.
Reset the bulb: If turning it off and on doesn't work, try resetting it to its factory settings. You can typically find this option in the Govee app.
Update the Govee app: Make sure you have the latest version of the Govee app. Check the app store to see if there are any updates available.
Restart your smartphone: Sometimes, a simple restart can do the trick. Restart your smartphone, and try syncing the bulbs again.
Check for interference: If you have other smart devices in the house, such as a smart TV or Amazon Echo, they may cause interference. Try moving the bulb to a different location or turning off other devices to see if that helps.
Contact Govee support: If none of the above steps work, you may need to contact Govee's customer support. They should be able to troubleshoot the issue further.
Are Govee LED Lights Safe?
Because the Govee wireless light bulbs work on Bluetooth technology, they are not secure or safe to use. Indeed, anyone who has Bluetooth enabled on their smartphone can control the lights in your home. But, of course, if you connect your bulbs with other smart devices like Google Home, Amazon Echo, or Apple Watch (Apple users), you won't need your phone anymore.
The company website states that the lightbulbs themselves meet all safety standards but does not discuss whether these safety standards include security and privacy protections for consumers that may be directly affected by the use of the product. The lack of security means hackers could potentially access personal information through one's light bulb, including passwords and bank details. Therefore, this is an area where users should exercise caution when using Govee Light Bulbs.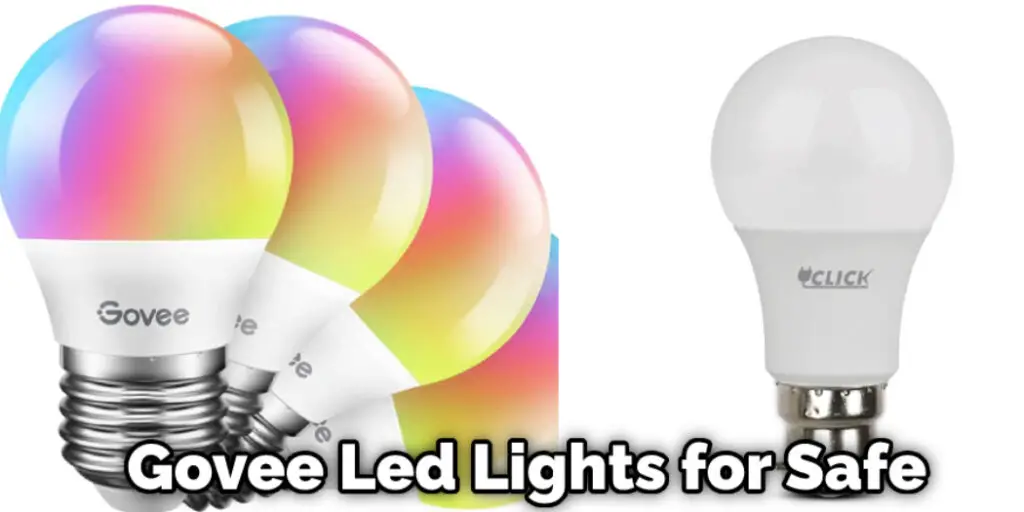 Further, the maker of this product does not mention a privacy policy or terms and conditions to inform users how their data will be used, which again represents a red flag. Without knowing this information, it would be challenging to trust that personal information will not end up in the wrong hands, including hackers who could potentially gain access to any devices linked to your smart light bulbs.
You may read also- How to Make Custom Led Light Colors
Frequently Asked Questions
Can You Connect Govee Leds Together?
Yes, Govee LED lamps can be connected together using the included cable. This makes it easy to create a large, uniform display area by combining different colors and patterns into one arrangement.
Can I Control Multiple Govee Strip Lights With Only One Remote?
Yes, you can control multiple Govee Strip Lights with only one remote. This is possible because each Govee Strip Light has its own built-in controller. To use the controller, just connect it to your router using the included Ethernet cable and enter the network configuration.
Once you're on the network, open the controller's app and follow the on-screen instructions.
Why Is My Govee Light Bulb Not Connecting?
If you're having trouble connecting your Govee light bulb to your home network, there are a few things you can check. First, make sure that your power is turned on in your home and that the Govee light bulb is plugged into an outlet that is properly grounded. Second, try to reset your router by unplugging it for about five minutes and then plugging it back in. If that doesn't work, you may need to call Govee support.
If none of these solutions work, you may need to replace your Govee light bulb. To do this, unplug the light bulb from the wall and wait two minutes before plugging it back in. If the light still doesn't turn on, you'll need to call Govee support.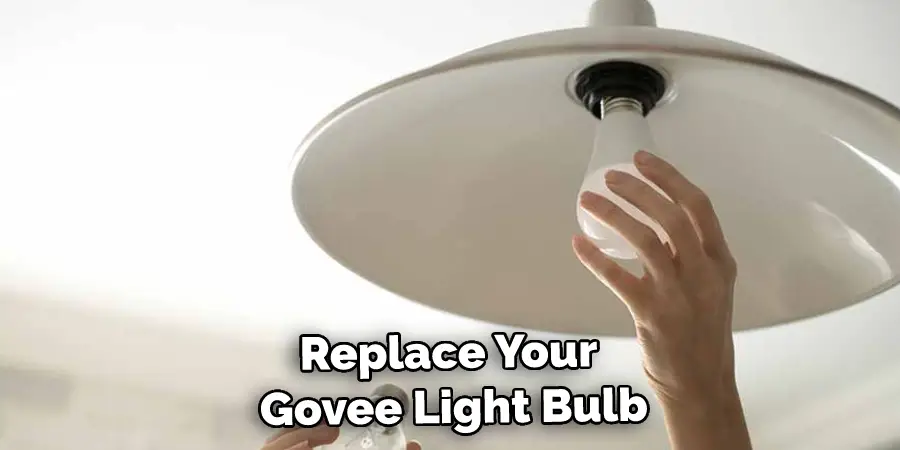 Can You Split Govee Lights?
Simply connect the lights to an outlet and then disconnect one light from the socket. Next, connect the other light to the same socket and turn it on. You're now able to share your lighting with a friend or family member by splitting the workload!
Conclusion
Govee is an innovative light bulb that has the potential to change how you use your home. We hope this article on how to sync govee light bulbs together helped get you started syncing up your new bulbs. If you're still having trouble, please let us know. We'd be glad to help answer any questions or provide any clarifications if needed.